Focused Foot Care & Treatments
Our feet don't always get a lot of attention – until there's a problem with them. Then they become front and center, and often, the resulting symptoms include pain, tension, and a lot of discomfort. 
When your feet are bothering you, Central Alberta Podiatry is there for you with solutions. We offer attentive foot care that can treat and prevent disease, injury, and chronic foot issues.
Contact Central Alberta Podiatry for a Personalized Consultation
Arch & Heel Pain
If you've been suffering from pain in your arch, heel, or ankle, it's usually a sign of an injury or foot condition. However, it may also be related to an underlying illness. In many cases, seeing a qualified podiatrist can help diagnose and treat those issues. 
Bunion Treatments
Bunions are deformities on the joint of the big toe. They may become red or painful, and prevent wearing some types of shoes. Central Alberta Podiatry specializes in bunion treatments and bunion surgeries. For more information see our Foot & Ankle Surgery page.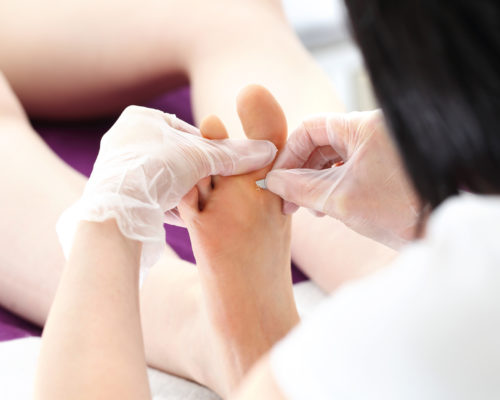 Diabetic Foot Care
Diabetes can cause a range of related health care issues, and feet are often negatively impacted as a result. 
Here are the answers to a few commonly asked questions about diabetic foot care: 
How does diabetes affect the feet specifically?
Diabetes is often related to nerve damage in various parts of the body. Two very common issues include foot ulcers and diabetic neuropathy (non-feeling). Both are caused by nerve damage in the feet. Managing your blood sugar levels can prevent these and other common foot issues, but once they've developed, you need to see a qualified podiatrist. 
What is diabetic foot care? 
When you have diabetes, it's important to have your feet checked more regularly by a doctor, and by a podiatrist. Foot care and checkups should be performed more regularly for those with diabetes. This helps prevent issues like ulcers, infections, and even gangrene, which can result from restricted blood flow to the feet if left untreated. 
What precautions are taken for diabetic foot care? 
If any foot problems persist, it's important to get in touch with your doctor or podiatrist right away. We may be able to spot an issue that hasn't developed yet. If you notice any changes in your feet, cuts or bruises that don't heal, or swelling that doesn't go down, get in touch with us right away. 
We

Treat

Our

Patients
Like Family

At Central Alberta Podiatry we want our patients to feel like they are in a safe, and trusting environment which is why we treat our patients as if they were family. Using the absolute highest attention to care with our methods in foot and ankle care our patients can be sure their concerns are treated properly.
Learn More
Contact us for more information or book an appointment