Foot Surgery & Ankle Surgery in Alberta
Our feet and ankles are subject to a great deal of wear and tear over our lifetimes. Injuries, deformities, or chronic conditions can develop, causing major pain and inconvenience. 
Many Central Alberta Podiatry patients have been managing the symptoms of chronic foot pain for years, and are looking for a more lasting solution. After treating your feet in any non-invasive way we can and not seeing the desired results, foot and ankle surgery may be a better option for care. 
Our certified and experienced podiatrists use skilled surgical techniques and modern medical practices to care for your feet before, during, and after surgery.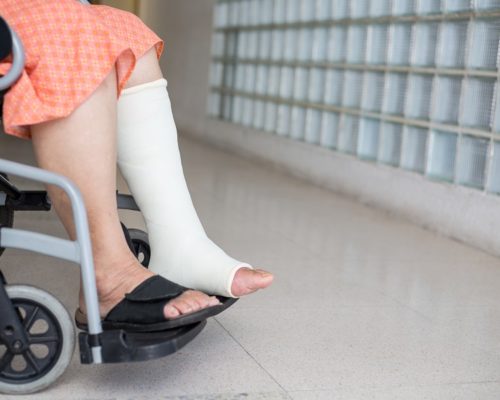 Hallux Valgus Surgery 
Bunions are bony developments that are often found around the big toe joint. They may be caused by frequently wearing high-heeled shoes, but they can also form due to genetics, work and stress, or activities and sports. 
Often, bunions have to be surgically corrected once they reach a certain size. The surgery is typically complete very quickly (in about an hour), and recovery is generally very fast. 
Surgery for Hammertoes
When toes become rigid and inflexible, they're often known as hammertoes. This is due to deformities in the joints of the toes. Like bunions, hammertoes can develop for various reasons, but it's often due to restrictive footwear, which makes the condition worsen over time. 
Surgery for hammertoes occurs on the soft tissue causing the joint to contract and remain rigid. Surgery time and recovery time are both minimal for this common procedure. 
Additional Surgeries & Treatments Available
Our surgeons and doctors are also able to treat: 
Metatarsal bone fractures
The Surgical Process – What to Expect
At Central Alberta Podiatry, our goal is always to minimize the impact of foot problems with the least amount of risk to you, the patient. Our surgical procedures and processes are designed to reduce potential risks and complications from surgery. 
The first step in the process is a consultation. We'll assess your feet and/or ankles and explore non-surgical treatment options. If those options fail to provide results, we'll schedule surgery at a certified health care facility in Alberta with fully trained and licensed doctors and surgeons. 
Before the surgery, you'll be kept informed about the procedure, what to expect, and how you can prepare (for example, not eating and drinking before the surgery). 
After your surgical procedure, we'll help you prepare for the healing process with any braces, wheelchairs or crutches, or medical equipment you'll need. Follow-up appointments will be booked regularly to check in on the healing progress.
We

Treat

Our

Patients
Like Family

At Central Alberta Podiatry we want our patients to feel like they are in a safe, and trusting environment which is why we treat our patients as if they were family. Using the absolute highest attention to care with our methods in foot and ankle care our patients can be sure their concerns are treated properly.
Learn More
Contact us for more information or book an appointment